Author Business Cards
While preparing for Realm Makers 2015, I decided I should update my business cards. My old ones were quite simple; My name with "Author" beneath it, website address, and a paragraphed list of the social media sites I was on.
I knew I wanted a photo of myself on my new cards. People are handed dozens of business cards at a conference. When they go through them later it can be difficult to remember everyone. They are more likely to remember you if they see a face next to your name. (Tweet this)
I had seen several business cards with social media logos instead of site names. I thought this was brilliant. It saves space and looks snazzy at the same time. (Tweet this)
It was important to me to make sure I added a tagline this time around. I was juggling between Stories down the street from normal and Facing the darkness within. 
It took my quite a while to come up with a tagline that both worked with my books and isn't being used by another author. I thought my first idea was pretty cool, but I knew the second one better described a shared theme of my works. Luckily, I was able to use both. :)
Having your book(s) cover art, title, and/or hook on your business card is a smart move for any author. (Tweet this) I wanted to do this on mine.
I knew what I wanted. Then came the hard part. Finding a way to put all of this information on a small, two-sided piece of paper.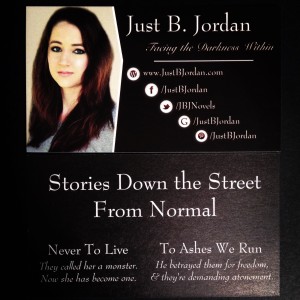 It wasn't easy. It took some searching and testing to find one that worked with my plans: Business cards are small. Photos need to be large enough to be easily seen. (Tweet this)
Oh, and while we sort all these information pieces onto the card, let's make sure it looks as uncluttered and attractive as possible. :) (Tweet this)
It was fun to put the puzzle together.
It was panic inducing when the cards showed up severely shadowed and looking like the "contrast" bar had been moved all the way over.
I was unprepared for the photo's colors to be so drastically changed in the printing process.
The conference was in ten days.
In a frenzied hurry, I edited my photo. I changed the background to off-white to help brighten it up. I took the colors and contrast down to allow for the changes made during printing. I sent off my second order and hoped for the best.
The new cards showed up several days before I left for Realm Makers. Thank goodness.
This time around the coloring was better. Not perfect, but much better. I learned my lesson: always pay attention to the "Proof" button. (Tweet this) It really does exist, and it shows you(in part) how the colors will be altered by Vistaprint's machines. ;)
How do you think my cards turned out?
Related Posts via Categories