Book #2
I have had multiple people asking if a second book is in the works, because they immensely enjoyed the depth and thought provoking nature of Never To Live and want to see more of this world. The answer is yes, I have been working on the next book in the series. I plan to have the first draft done sometime in May.
And now, here is the working title of book #2!  *Drum roll*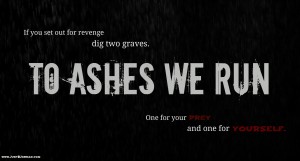 To Ashes We Run takes place thousands of years before Never To Live. The main character of TAWR does make an appearance in NTL, though. You know him as Jasper. His original name was Adisa. And he has quite the story to tell.
Related Posts via Categories