Making a Princess Mononoke Cosplay: The Intro
Princess Mononoke. Sama. San. Mononoke Hime. She's been called by many names. And her stock costume is pretty fun to make.
If you aren't familiar with Mononoke, she is a "wolf girl" and guardian of the forest (and the spirits of the forest). She is a character from a Studio Ghibli film by Miyazaki. Japanese films aren't everyone's cup of tea, but I would highly recommend checking out Miyazaki's works. If you are unfamiliar with Miyazaki, or anime films in general, I would not recommend starting with Princess Mononoke. Her's is one of the only violent films Miyazaki, a pacifist, has made. Instead, ease your toes into the water with one of these wonderful gems: The Secret World of Arrietty, Howl's Moving Castle, or Laputa: Castle in the Sky. And if you're feeling adventurous, try Spirited Away. People who are not used to the wonderfully weird ways of anime may at first be put off by the strangeness of Spirited Away, but trust me: It grows on you.
Ok, so why I made this cosplay in the first place:
There's this writing conference called Realm Makers. At this conference there is an awards banquet. And at this awards banquet costumes are encouraged, because almost everyone there is a fan of sci-fi and fantasy—
Which gives me the perfect excuse to spend time and money on cosplay. ;)
I had a hard time choosing a character. At least a dozen other ideas stuck with me, but they all lost on the fateful day I stepped into a shoe store. I was looking for "conference shoes" (aka, black flats). I found conference shoes…but not black flats.
Cosplay boots.
I saw them in the isle and stared. They were nearly identical to the boots I wanted to make if I chose Mononoke: tan, suede feet with fury tops wrapped in suede string.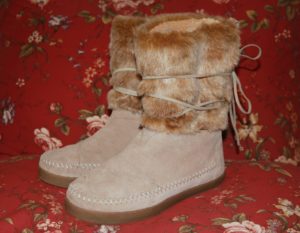 The decision was made for me.
So here's how I made Princess Mononoke come to life.
First, I made a list:
Dress: 1 1/2 yards jersey knit dark blue fabric, using McCalls pattern M6957
Apron: heavy canvas or suede, minimum 48″ by 12″
Faux fur pelt: 60″ by 18″
Boots
Wig
Large shell earrings
Head and arm bands
Dagger
Face paint
Beads
*If anyone is looking at this series of posts with the intention of using them as an aid to build your own Mononoke cosplay, please remember that my fabric dimensions will be different from yours. For reference, I am 5'7″ and 112lbs (so, part elf). The numbers that fit me will be too long and/or tight for some people.
I knew I wanted to do my best to make the costume look realistic. This meant time (I started 5 months before the conference), money, and choosing elements of the costume to not do (Why? Because the more you add, the more time and money it takes, the more your resources are spread…the "cheesier" your costume gets).
*Not that I have anything against "cheesy" costumes. Goodness, I've worn a number of them myself. ;) Cosplay can get crazy expensive and involved, so if you're in costume at all, you get an A+ in my book. 
I do plan to add the other elements in time…when I can justify putting more resources into "finishing" the costume. To be honest, I almost didn't add the fur cape or dagger this time around.
The pieces I left out:
The hood
The mask and ears
The blue crystal necklace
The spear
The giant wolves ;)
The hood wouldn't look right on Mononoke without the mask, so it was out.
The mask and ears were out because I simply didn't have the time to build them in an epic *cough*non-cheesy*cough* way, and I couldn't justify spending $120 (at this time…) to buy the ones I want from another creator.
The blue crystal necklace is an extra. It doesn't make or break the costume, even though it is pretty cool. (That didn't stop me from keeping an eye out for a large, beautiful blue crystal. No luck.) So let me know if you spot a nice one out there.
The Spear. Since I was planning on a dagger, I didn't need a spear. It would not only be more complicated to build, but it would be more difficult to transport.
The giant wolves… If anyone out there can create a giant robotic wolf to run around with me, we'll be besties. ;)
So things don't get too long, I will divide up different elements of the cosplay into separate posts.
I tried to remember to take a number of photos throughout the process. Hopefully I didn't miss any important "making of" moments. I know that can be frustrating when you're looking for a reference to build your own costume.
I will post photos, explain my process, note what I purchased where, why I decided to alter some elements from their traditional look, and do my best to detail the weathering process I used (I believe that is what not only made the costume look more "authentic" in person, but also negated any possible flashback from photos being taken).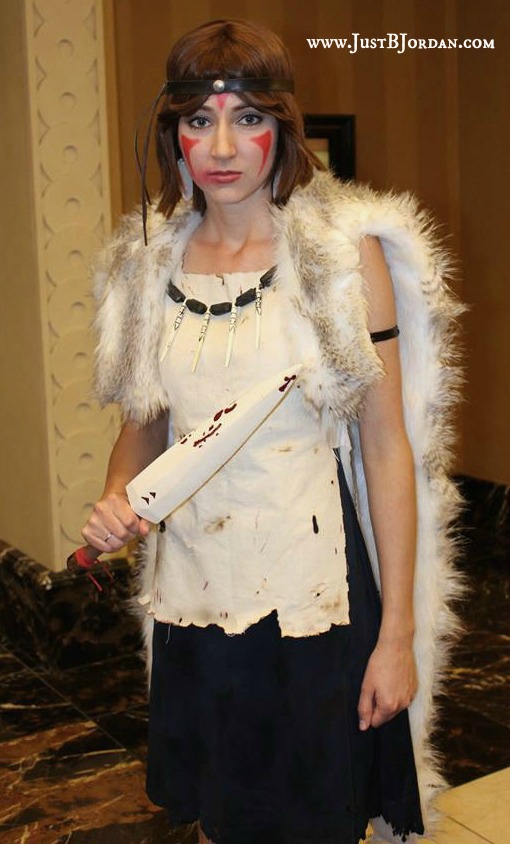 This is just The Intro
Next up is The Base: Mononoke's Dress and Apron
The Accessories: Mononoke's Headband, Necklace, Armbands, Earrings, and Face Paint
Mononoke's Dagger and Wig
Mononoke Wrap Up: Final Weathering and Other Extras
Photos of Mononoke
At a later time (once I get around to actually making them) I will add the pieces that are currently left out.
I hope you're looking forward to this as much as I am!
Let me know if there is anything in particular you would like to have covered in these posts, and I will do my best to include it.
Related Posts via Categories