Creating My Own Business Card
Creating your own business card is hard! I'm not a very technically inclined person to begin with, so creating my own template was out of the question; I didn't want to pull out all of my hair in frustration. ;) I decided to work with VistaPrint, seeing as they had a wide range of choices and great reviews.
When choosing a business card template you have to choose a style and look that makes sense for your business, is eye catching and yet easy on the eyes, and looks professional. I wanted some sort of image on my card. Images make things interesting and engaging. But I didn't want the typical typewriter or stack of books that you think of for an author's business card. I'm a fan of originality. :) I'm also picky with colors and balance . This left me with very few options.
There were a couple of templates I was keeping in mind, but I kept coming back to the same one. I just looked "right" to me. And that's the one I ended up going with.
When I was filling out the information I wanted present on the card, I ran into a problem. I couldn't get the text in the bottom right corner to center on itself. Technically challenged, remember? So I put in as many blank spaces as I needed after the bottom two lines before typing in  a period for the middle and an apostrophe for the last. I was hoping they wouldn't be noticeable on the card when it was printed. I lucked out. They aren't. But now you know the secret. If you look hard enough you might be able to see them. :)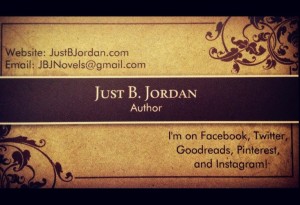 Related Posts via Categories